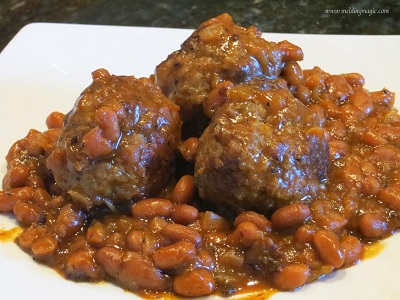 Southwestern Red Beans and Rice with Andouille Sausage
| | | |
| --- | --- | --- |
| Amount | Measure | Ingredient -- Preparation Method |
| -------- | ------------ | -------------------------------- |
| 6 | cups | water |
| 1 | pound | red beans -- soaked |
| 3 | ounces | ham -- diced or a ham hock |
| 1 | medium | sweet onion -- diced fine |
| 1 | pound | Cajun style Andouille sausage -- sliced |
| 1 | tablespoon | olive oil -- oil |
| 1 | large | sweet red pepper -- seeded and diced |
| 1 | large | clove garlic -- minced |
| 4 1/2 | ounces | green chilies diced -- drained |
| 1 | tablespoon | Cajun spice mix - homemade -- see recipe |
| 1 | tablespoon | low sodium Worcestershire sauce |
| 1 | large | bay leaf |
| 2 | medium | Roma tomatoes -- seeded and diced |
| 8 | ounces | no salt added tomato sauce |
| 1 | teaspoon | salt |
| 6 | ounces | no salt added tomato paste |
| 4 | cups | rice -- cooked |

Cover beans by one inch of water. Add ham to the beans. Let come to a boil and let boil for 1 minute. Remove from heat and cover and let sit for one hour. Drain.

Heat oil in large Dutch oven. Add onion and sausage and cook until sausage is cooked through and onion start to brown.

Add clove of garlic and Cajun spice mix and cook for 30 seconds or until fragrant.

Add red pepper, green chilies, and Roma tomatoes. Cook for one minute.

Add beans, water, bay leaf, salt, tomato paste, and tomato sauce bring to a boil. Reduce heat and let simmer for three to four hours.

Add rice and cook for 30 minutes.

You can serve with a sprinkling of cilantro or green onions if you wish.

Makes 8 servings.

Per Serving: 804 Calories; 21g Fat (23.8% calories from fat); 30g Protein; 123g Carbohydrate; 19g Dietary Fiber; 41mg Cholesterol; 1077mg Sodium. Exchanges: 7 Grain (Starch); 1 Lean Meat; 2 Vegetable; 1/2 Fat; 0 Other Carbohydrates.