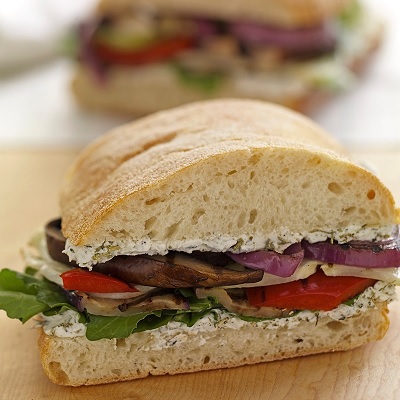 Grilled Vegetable Sandwich
| | | |
| --- | --- | --- |
| Amount | Measure | Ingredient -- Preparation Method |
| -------- | ------------ | -------------------------------- |
| 1 | medium | eggplant -- sliced |
| 1 | medium | zucchini -- sliced |
| 1 | medium | red bell pepper ring -- seeded and sliced |
| 1 | medium | yellow squash -- sliced |
| 1 | small | red onion -- sliced |
| 1 | teaspoon | homemade Italian seasoning -- see recipe |
| 1/2 | teaspoon | seasoned salt |
| 1/4 | teaspoon | seasoned pepper |
| 1/8 | cup | balsamic vinegar |
| 4 | tablespoons | olive oil |
| 4 | ounces | mozzarella cheese -- fresh |
| 8 | slices | Italian bread |
| 8 | tablespoons | homemade tartar sauce -- see recipe |
Slice eggplant, zucchini, red onions, and squash on diagonal about 1/4 inch thick. Slice pepper into 4 slices vertically.

Mix Italian seasoning, salt, pepper, vinegar, and oil together and pour into a Ziploc bag. Add vegetables and turn to coat. Marinate for 15 minutes turning a couple of times.

Heat grill until medium high and grill vegetables until cooked through and tender about 5 to 8 minutes per side.

Toast buns on both side.

Spread 1 tablespoon of tartar sauce on each slice of bread. Divide vegetables among 4 slices bread and top with remaining bread.

Makes 4 servings.
Per Serving: 471 Calories; 31g Fat (57.4% calories from fat); 12g Protein; 39g Carbohydrate; 6g Dietary Fiber; 36mg Cholesterol; 765mg Sodium. Exchanges: 1 1/2 Grain (Starch); 1 Lean Meat; 2 1/2 Vegetable; 0 Fruit; 4 Fat; 0 Other Carbohydrates.