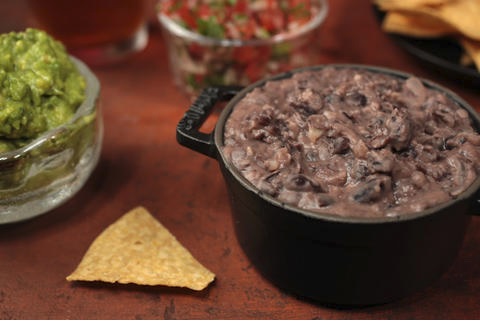 Traditional Refried Black Beans
| | | |
| --- | --- | --- |
| Amount | Measure | Ingredient -- Preparation Method |
| -------- | ------------ | -------------------------------- |
| 3 | tablespoons | vegetable oil |
| 2 | cloves | garlic -- minced |
| 1/2 | teaspoon | cumin |
| 1/2 | teaspoon | chili powder |
| 1 | small | onion -- minced |
| 1 | small | jalapeno -- minced |
| 1/2 | teaspoon | salt |
| 15 | ounces | dried black beans |

Rinse beans well discarding any stones or incompletely formed beans. Put in large pot and cover with water. Bring to a boil. Reduce to simmer and cook 2 to 2 1/2 hours or until beans or soft but not bursting out of skins. Drain.

Heat oil in large skillet. Add onion and jalapeno and cook until softened.

Add garlic and cook for 30 seconds.

Add beans, salt, cumin, and chili powder.

Cook mashing beans with back of a spoon or potato masher until the beans are the consistency of mashed potatoes.

Makes 6 servings.

Per Serving: 164 Calories; 7g Fat (39.0% calories from fat); 7g Protein; 19g Carbohydrate; 7g Dietary Fiber; 0mg Cholesterol; 196mg Sodium. Exchanges: 1 Grain (Starch); 1/2 Lean Meat; 1/2 Vegetable; 1 1/2 Fat.