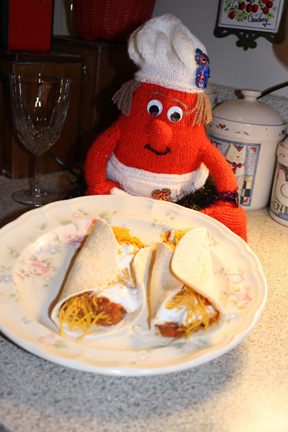 Spicy Bacon and Beans Burritos
| | | |
| --- | --- | --- |
| Amount | Measure | Ingredient -- Preparation Method |
| -------- | ------------ | -------------------------------- |
| 1 | small | onion -- minced |
| 1 | clove | garlic -- minced |
| 4 | slices | bacon -- reduced fat -- diced |
| 10 | ounces | Rotel chunky diced tomatoes & green chilies -- drained |
| 16 | ounces | fat-free refried beans |
| 1 | tablespoon | chili powder |
| 1/2 | teaspoon | cumin |
| 1/2 | teaspoon | oregano |
| 1 | tablespoon | no salt added tomato paste |
| 1 | teaspoon | seasoned salt |
| 1/4 | teaspoon | seasoned pepper |
| 1/4 | teaspoon | crushed red pepper |
| 8 | whole | tortilla flour -- fajita size |
| 8 | teaspoons | light sour cream |
| 8 | teaspoons | low sodium cheddar cheese |

Cook bacon to desired doneness. Remove from pan and drain on paper towels.

Add onion and garlic to pan and cook until softened.

Add chili powder, cumin, oregano, tomato paste, salt, pepper, and crushed red pepper to pan and cook for 30 seconds.

Add tomatoes and refried beans and bacon. Cook until heated through.

Serve on tortillas with sour cream and cheese.

Makes 8 servings.

Per Serving: 538 Calories; 14g Fat (23.0% calories from fat); 16g Protein; 87g Carbohydrate; 5g Dietary Fiber; 5mg Cholesterol; 1399mg Sodium. Exchanges: 5 1/2 Grain (Starch); 1/2 Lean Meat; 1/2 Vegetable; 2 1/2 Fat; 0 Other Carbohydrates.