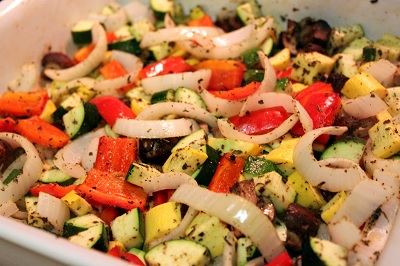 Italian Vegetable Quartet
| | | |
| --- | --- | --- |
| Amount | Measure | Ingredient -- Preparation Method |
| -------- | ------------ | -------------------------------- |
| 14 1/2 | ounces | no salt added diced tomatoes with basil & garlic & oregano |
| 1 | large | yellow squash -- cubed |
| 8 | ounces | crimini mushrooms -- sliced |
| 1 | small | sweet onion -- sliced |
| 3 | tablespoons | unsalted butter |
| 1 | clove | garlic |
| 1 | teaspoon | homemade Italian seasoning -- see recipe |
| 1/2 | teaspoon | salt |
| 1/4 | teaspoon | black pepper |
Melt butter in a large skillet. Add onions and mushrooms. Cook 3 to 4 minutes or until onion is softened and mushrooms start to brown and lose their water.

Add squash and tomatoes. Cook for another couple minutes or until heated through.

Season with salt, pepper, and Italian seasoning.

Makes 6 servings.
Per Serving: 96 Calories; 6g Fat (52.3% calories from fat); 2g Protein; 10g Carbohydrate; 1g Dietary Fiber; 16mg Cholesterol; 189mg Sodium. Exchanges: 0 Grain (Starch); 1/2 Vegetable; 1 Fat.