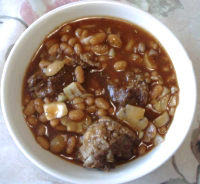 Italian Baked Beans with Meatballs
| | | |
| --- | --- | --- |
| Amount | Measure | Ingredient -- Preparation Method |
| -------- | ------------ | -------------------------------- |
| 28 | ounces | baked beans |
| 1 | tablespoon | Worcestershire sauce |
| 1/2 | small | onion -- chopped |
| 1 | clove | garlic -- minced |
| 1 | tablespoon | molasses |
| 4 | ounces | mushrooms -- sliced |
| 8 | ounces | no salt added tomato sauce |
| 1 | teaspoon | Italian seasoning |
| 1 | pound | ground beef -- extra lean |
| 1 | whole | egg |
| 1/2 | cup | panko |
| 1/2 | small | onion -- chopped |
| 1 | clove | garlic -- minced |
| 1/4 | cup | red wine |
| 1/2 | teaspoon | salt |
| 1/4 | teaspoon | seasoned pepper |
| 1/2 | teaspoon | Italian seasoning |
Combine ground beef, egg, bread crumbs, 1/2 small onion, 1 clove garlic, wine, salt, pepper, and 1/2 teaspoon Italian seasoning. Mix thoroughly. Shape into 20 meatballs. Fry 15 minutes until browned. Drain.
Combine beans, Worcestershire sauce, molasses, 1/2 small onion, 1 clove garlic, mushrooms, tomato sauce, and 1 teaspoon Italian seasoning in a 11 inch by 9 inch casserole dish. Top with cooked meatballs. Bake, uncovered, in a 350 degree oven for 30 minutes.

Makes 6 servings.
Per Serving: 284 Calories; 11g Fat (34.2% calories from fat); 18g Protein; 30g Carbohydrate; 6g Dietary Fiber; 66mg Cholesterol; 607mg Sodium. Exchanges: 1 1/2 Grain (Starch); 1 1/2 Lean Meat; 1 Vegetable; 1 Fat; 0 Other Carbohydrates.