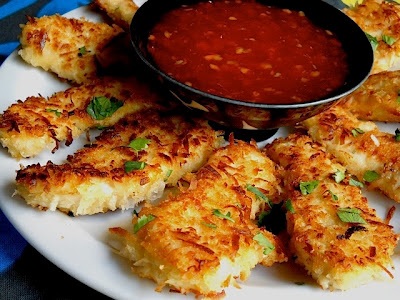 Coconut Chicken with Plum Dipping Sauce
| | | |
| --- | --- | --- |
| Amount | Measure | Ingredient -- Preparation Method |
| -------- | ------------ | -------------------------------- |
| 1 1/2 | pounds | boneless skinless chicken breasts -- cut into 6 pieces |
| 1/2 | teaspoon | garlic salt |
| 1/4 | teaspoon | paprika |
| 1/4 | teaspoon | poultry seasoning -- see recipe |
| 1/2 | cup | flour - all-purpose |
| 1 | cup | coconut flakes |
| 2 | tablespoons | unsalted butter -- melted |
| 1/4 | cup | 2% milk |
| 1 | whole | egg |
| | | Plum Sauce |
| 1/4 | cup | plum sauce |
| 1 | tablespoon | rice wine vinegar |
| 1 | tablespoon | low sodium soy sauce |
| 1 | tablespoon | Dijon mustard |
| 1 | tablespoon | molasses |
Heat oven to 400°F.

Cut chicken breasts into one inch cubes if doing appetizers.

Mix salt, paprika, poultry seasoning, flour and coconut flakes together in a pie pan.

Mix egg and milk together mixing well in another pie pan.

Dip the chicken pieces into the egg and milk mixture coating well. Shake off excess.

Dip chicken pieces into the coconut mixture making sure it is coated well. Place in a shallow baking pan and drizzle with melted butter.

Bake at 400°F for 25 minutes turning over half way or until chicken is cooked through.
Plum Sauce: add plum sauce, rice wine vinegar, soy sauce, mustard and molasses together in a small saucepan. Heat through and let simmer until chicken is ready.

Makes 6 servings.

Notes : If you want this as a meal cut the chicken breasts into 6 pieces and not cubes.

Per Serving: 301 Calories; 11g Fat (32.0% calories from fat); 29g Protein; 21g Carbohydrate; 1g Dietary Fiber; 112mg Cholesterol; 471mg Sodium. Exchanges: 1/2 Grain (Starch); 4 Lean Meat; 0 Vegetable; 1/2 Fruit; 0 Non-Fat Milk; 1 1/2 Fat; 0 Other Carbohydrates.