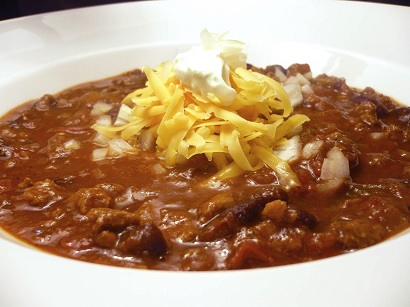 California Three Bean Chili
| | | |
| --- | --- | --- |
| Amount | Measure | Ingredient -- Preparation Method |
| -------- | ------------ | -------------------------------- |
| 2 | tablespoons | olive oil |
| 1 | small | sweet onion -- chopped |
| 1 | clove | garlic -- minced |
| 1 | small | green bell pepper -- diced |
| 1/2 | cup | red wine |
| 14 1/2 | ounces | diced tomatoes with green chilies -- drained |
| 15 | ounces | black beans -- canned -- drained & rinsed |
| 15 | ounces | low sodium kidney beans -- canned -- drained & rinsed |
| 15 | ounces | pinto beans -- canned -- drained & rinsed |
| 2 | tablespoons | chili powder |
| 1 | teaspoon | cumin |
| 1 | teaspoon | dried oregano |
| 1 | teaspoon | dried basil |
| 1 | teaspoon | cocoa powder |
| 1/2 | teaspoon | seasoned pepper |
| 2 | tablespoons | no salt added tomato paste |
| 2 | teaspoons | sugar |
| 1/2 | teaspoon | seasoned salt |
| 4 | ounces | green chili peppers |
| 2 | ounces | pimentos -- diced |

Heat oil in Dutch oven over medium-high. Add onion and green pepper and cook for 5 minutes or until softened.

Stir in remaining ingredients. Reduce heat and simmer for 20 minutes.

Makes 6 servings.

Per Serving: 286 Calories; 6g Fat (20.0% calories from fat); 13g Protein; 43g Carbohydrate; 14g Dietary Fiber; 0mg Cholesterol; 841mg Sodium. Exchanges: 2 Grain (Starch); 1/2 Lean Meat; 1 Vegetable; 1 Fat; 0 Other Carbohydrates.