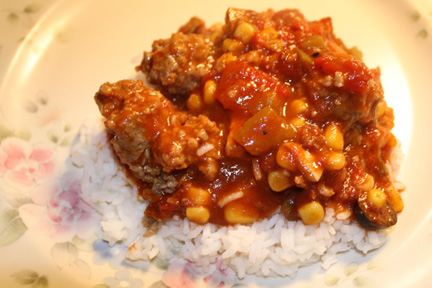 Cajun Meatballs Over Rice
| | | |
| --- | --- | --- |
| Amount | Measure | Ingredient -- Preparation Method |
| -------- | ------------ | -------------------------------- |
| 1 | pound | pork sausage |
| 11 | ounces | Mexican style corn -- drained |
| 8 | ounces | mushroom caps -- sliced |
| 2 | ounces | pimientos -- diced and drained |
| 4 | ounces | green chilies -- diced and drained |
| 2 1/4 | ounces | black olives -- sliced and drained |
| 6 | ounces | no salt added tomato paste |
| 16 | ounces | no salt added tomato sauce |
| 14 1/2 | ounces | no salt added diced tomatoes -- drained |
| 1 | whole | shallot -- minced |
| 2 | cloves | garlic -- minced |
| 1/2 | cup | Panko |
| 1 | cup | red wine |
| 1 1/2 | teaspoons | seasoned salt |
| 1/2 | teaspoon | seasoned pepper |
| 2 1/2 | teaspoons | Cajun spice -- see recipe here |
| 1 | whole | egg |
| 2 | tablespoons | vegetable oil |
| 1 | whole | roasted red pepper -- diced |
| 4 | cups | rice |
In a medium bowl mix together sausage, pimentos, 1 clove garlic, 1 tablespoon shallot, 1/2 teaspoon Cajun spice, 1/2 teaspoon salt, 1/4 teaspoon pepper, 1/4 cup wine, panko, and egg. Make into 1 inch size meatballs.

Heat oil in large skillet or Dutch oven to shimmering. Brown meatballs on all sides. Remove from pan.

Deglaze pan with remaining 3/4 cup red wine.

Add rest of ingredients (except rice) and heat to boiling.

Reduce heat and add meatballs back into the sauce. Cover and simmer for 30 minutes.

Serve over rice.
Makes 10 servings.
Per Serving: 612 Calories; 24g Fat (35.9% calories from fat); 15g Protein; 80g Carbohydrate; 5g Dietary Fiber; 52mg Cholesterol; 782mg Sodium. Exchanges: 4 1/2 Grain (Starch); 1 Lean Meat; 2 Vegetable; 0 Fruit; 4 Fat; 0 Other Carbohydrates.