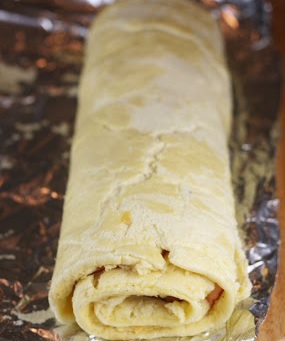 Tex-Mex Vegetable Filled Soufflé Roll
| | | |
| --- | --- | --- |
| Amount | Measure | Ingredient -- Preparation Method |
| -------- | ------------ | -------------------------------- |
| 1/4 | cup | unsalted butter |
| 1/4 | cup | all-purpose flour |
| 1/2 | teaspoon | salt |
| 1/8 | teaspoon | cayenne pepper |
| 1 1/2 | cups | 2% low-fat milk |
| 4 | | egg yolks |
| 6 | | egg whites |
| 1/2 | teaspoon | cream of tartar |
| 1 | small | onion -- diced |
| 2 | cloves | garlic -- minced |
| 1 | tablespoon | olive oil |
| 1 | small | zucchini -- diced |
| 2 | small | Yukon Gold potatoes -- diced |
| 1 | small | red pepper -- diced |
| 1 | cup | frozen corn kernels -- defrosted |
| 4 | ounces | green chilies |
| 1/2 | teaspoon | cumin |
| 1/2 | teaspoon | marjoram |
| | | vegetable oil spray |
Spray bottom of jelly roll pan 15 1/2x10 1/2x1 inch with spray. Line bottom of pan with parchment paper and spray paper with vegetable oil. Set aside. Heat oven to 350°F.

Heat butter in saucepan over low heat until melted. Stir in flour, salt, and cayenne pepper. Cook stirring constantly until smooth and bubbly.

Stir in milk and heat to boiling stirring constantly. Boil and stir for 1 minute. Remove from heat.

Add egg yolks one at a time.

Beat egg whites and cream of tartar until stiff but not dry.

Stir 1/4 of the egg whites into egg yolk mixture. Fold rest of egg whites into egg yolk mixture.

Spread evenly in pan and bake until puffed and golden about 35 to 40 minutes.

White eggs cook make vegetables.

Heat olive oil in large saucepan and add onion. Cook until softened.

Add garlic, zucchini, potatoes, red pepper, corn. green chilies, cumin, and marjoram. Cook until vegetables are softened and cooked through. Stir in cheese.

When eggs are done immediately loosen from pan and invert onto cloth covered rack. Carefully peal off parchment paper.

Spread soufflé with vegetable mixture and roll up from narrow end.

Cut into slices and serve immediately.

Makes 4 servings.
Per Serving : 399 Calories; 22g Fat (49.4% calories from fat); 16g Protein; 36g Carbohydrate; 4g Dietary Fiber; 251mg Cholesterol; 412mg Sodium. Exchanges: 1 Grain(Starch); 1 Lean Meat; 1 1/2 Vegetable; 0 Fruit; 1/2 Non-Fat Milk; 4 Fat.