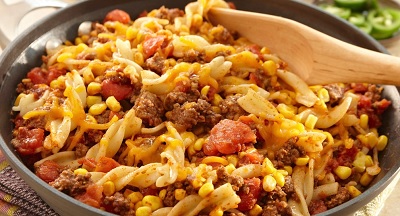 Tex-Mex Skillet Pasta Dinner
| | | |
| --- | --- | --- |
| Amount | Measure | Ingredient -- Preparation Method |
| -------- | ------------ | -------------------------------- |
| 2 | cups | macaroni |
| 1 | tablespoon | olive oil |
| 1 | pound | extra lean ground beef |
| 1 | small | onion -- minced |
| 1 | clove | garlic -- minced |
| 14 1/2 | ounces | diced tomatoes with green chilies -- drained |
| 4 1/2 | ounces | green chilies -- diced |
| 2 1/2 | ounces | black olives -- diced |
| 1 | cup | frozen corn -- defrosted |
| 8 | ounces | no salt added tomato sauce |
| 1 1/2 | cups | low sodium beef broth |
| 1 | cup | black beans -- rinsed |
| 1 1/2 | teaspoons | taco spice mix -- see recipe |
| 1/2 | cup | low sodium cheddar cheese -- shredded |
Heat oil in large skillet over medium-high. Add meat and onion and cook until no pink remains and onion is softened. Drain excess fat.

Stir in pasta, broth, and tomato sauce. Bring to a boil. Reduce heat and cover and simmer until pasta is cooked through 12 to 15 minutes.

Add tomatoes, corn, beans, chilies, olives, and spice mix. Stir until heated through.

Add cheese and toss to combine and cheese is melted.

Notes: If you can find the tomatoes with jalapeno chilies get that.

Makes 6 servings.
Per Serving: 569 Calories; 21g Fat (32.8% calories from fat); 33g Protein; 63g Carbohydrate; 9g Dietary Fiber; 62mg Cholesterol; 379mg Sodium. Exchanges: 3 1/2 Grain (Starch); 3 Lean Meat; 1 Vegetable; 0 Fruit; 2 1/2 Fat.