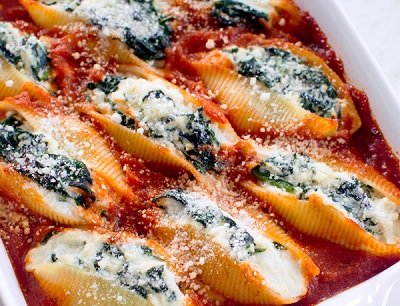 Spinach and Mushroom Stuffed Shells
| | | |
| --- | --- | --- |
| Amount | Measure | Ingredient -- Preparation Method |
| -------- | ------------ | -------------------------------- |
| 12 | large | pasta shells |
| 10 | ounces | frozen spinach -- defrosted |
| 1 | tablespoon | olive oil |
| 8 | ounces | Portobello mushrooms -- diced |
| 1 | small | sweet onion -- minced |
| 2 | large | garlic cloves -- minced |
| 1 | teaspoon | Italian seasoning |
| 4 | ounces | low fat ricotta cheese |
| 4 | ounces | low fat mozzarella cheese -- divided |
| 4 | ounces | Parmesan cheese -- grated |
| 1 | cup | quick spaghetti sauce -- see recipe |
Heat oven to 350°F.

Cook pasta shells about half the time indicated on box and let cool.

Heat oil over medium heat in large skillet. Add onion and mushrooms and cook until mushrooms loose their moisture and onions soften.

Add garlic and cook for 30 seconds.

Add spinach and Italian seasoning and cook for a couple of minutes or until spinach looses some of its moisture.

Mix ricotta and half of the mozzarella together. Add spinach mixture and 1/3 cup of tomato sauce and mix well.

Spread 1/3 cup tomato sauce on bottom on casserole dish. Arrange the shells on top of sauce.

Pour remaining sauce over shells and top with the rest of the mozzarella cheese and all of the Parmesan.

Cover and bake for 30 minutes or until hot and bubbly.

Notes: Use the Portobello mushrooms sometimes called baby bella. They have a meaty taste.

Makes 6 servings.
Per Serving: 1081 Calories; 20g Fat (16.5% calories from fat); 48g Protein; 177g Carbohydrate; 10g Dietary Fiber; 33mg Cholesterol; 743mg Sodium. Exchanges: 10 1/2 Grain (Starch); 2 Lean Meat; 1 Vegetable; 1 Fat.