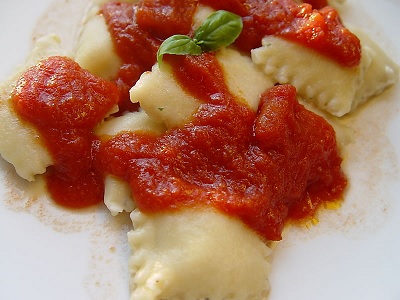 Ravioli with Cheese and Spinach
| | | |
| --- | --- | --- |
| Amount | Measure | Ingredient -- Preparation Method |
| -------- | ------------ | -------------------------------- |
| | | Dough |
| 2 | cups | all-purpose flour |
| 3 | whole | eggs |
| 1/2 | teaspoon | salt |
| 2 | tablespoons | extra virgin olive oil |
| 2 | tablespoons | water |
| | | Filling |
| 10 | ounces | frozen spinach -- defrosted |
| 1 | whole | egg |
| 4 | ounces | grated fresh Parmesan cheese |
| 8 | ounces | low fat mozzarella cheese -- shredded |
| 8 | ounces | low fat ricotta cheese |
| 1/2 | teaspoon | salt |
| 1/4 | teaspoon | ground black pepper |
| 1 | teaspoon | Italian seasoning |
| 1 | cup | quick spaghetti sauce -- see recipe |
| 1 | whole | egg white |
| 2 | tablespoons | water |
To make dough put flour in food processor. Pulse a couple of times.

Mix egg, salt, olive oil, and water together in measuring cup.

With machine running slowly pour liquid into feed tube mixing until a smooth ball forms.

Pat ball into a disc and wrap in plastic and let rest for 30 minutes.

To make filling squeeze the moisture out of the spinach.

Add spinach, egg, Parmesan, mozzarella, ricotta, salt, pepper, and Italian seasoning together in a bowl.

Heat a large pot of lightly salted water to boiling.

Mix water and egg white together.

Divide dough into 6 equal parts. Cover remaining dough as you work so it doesn't dry out.

Roll a piece of dough as thin as you can into a 12 inch square. Fold in half.

Roll a second piece of dough like the first but don't fold in half. Mound about 1 teaspoon of filling about 1 1/2 inches apart in a checkerboard fashion. Brush edges and in between mounds with egg wash mixture.

Unfold first piece of dough over dough with filling. With the side of your hand press down around filling and edges to seal. Cut with pastry wheel or knife and separate the pieces of ravioli.

Repeat with the remaining pieces of dough and filling. You should have 48 ravioli.

Cook uncovered until tender about 12 minutes. Remove to a colander a let drain.

Place on a platter and cover with tomato sauce.

Makes 8 servings.
Per Serving: 435 Calories; 19g Fat (40.2% calories from fat); 28g Protein; 38g Carbohydrate; 4g Dietary Fiber; 144mg Cholesterol; 995mg Sodium. Exchanges: 1 1/2 Grain (Starch); 3 Lean Meat; 1/2 Vegetable; 1 1/2 Fat.