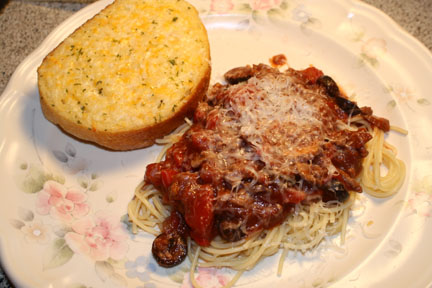 Meat and Mushroom Spaghetti
| | | |
| --- | --- | --- |
| Amount | Measure | Ingredient -- Preparation Method |
| -------- | ------------ | -------------------------------- |
| 1 | tablespoon | olive oil |
| 1 | medium | shallot -- minced fine |
| 8 | ounces | crimini mushrooms -- sliced |
| 1 | pound | extra lean ground beef |
| 1 | clove | garlic -- minced fine |
| 6 | ounces | no salt added tomato paste |
| 1/8 | teaspoon | crushed red pepper flakes |
| 1 | teaspoon | homemade Italian seasoning -- see recipe |
| 1 | teaspoon | seasoned salt |
| 1/4 | teaspoon | seasoned pepper |
| 1/2 | cup | red wine |
| 1 | tablespoon | low sodium Worcestershire sauce |
| 14 1/2 | ounces | no salt added diced tomatoes with basil & garlic & oregano -- drained |
| 1 | large | roasted red pepper |
| 2 1/4 | ounces | black olives -- drained and sliced |
| 16 | ounces | no salt added tomato sauce |
| 8 | ounces | spaghetti -- cooked |
| 4 | ounces | grated fresh Parmesan cheese |
Heat oil in large frying pan on medium high. Add shallot, mushrooms, and ground beef. Cook until no pink remains in meat.

Add garlic, tomato paste, salt, pepper, and red pepper flakes. Cook for one minute or until fragrant.

Add red wine and Worcestershire sauce and heat stirring up the brown bits.

Add tomatoes, olives, and roasted pepper. Heat for one minute.

Add tomato sauce and heat until boiling. Reduce heat and cover and simmer for 30 minutes.

Make the spaghetti according to package instructions.

Serve sauce over spaghetti with fresh cheese on top.

Makes 8 servings.
Per Serving: 404 Calories; 17g Fat (39.3% calories from fat); 23g Protein; 36g Carbohydrate; 4g Dietary Fiber; 50mg Cholesterol; 609mg Sodium. Exchanges: 1 1/2 Grain (Starch); 2 1/2 Lean Meat; 2 Vegetable; 0 Fruit; 2 Fat; 0 Other Carbohydrates.