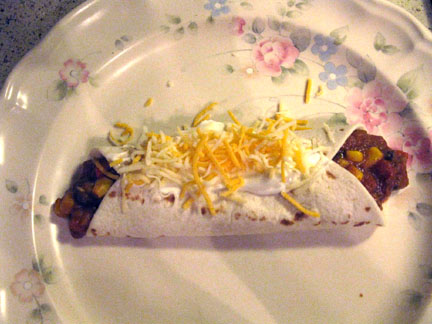 Great Beef and Bean Burrito
| | | |
| --- | --- | --- |
| Amount | Measure | Ingredient -- Preparation Method |
| -------- | ------------ | -------------------------------- |
| 1 | pound | extra lean ground beef |
| 1 | tablespoon | olive oil |
| 16 | ounces | fat free refried beans |
| 10 | ounces | no salt added Rotel diced tomatoes and green chilies -- drained |
| 4 | ounces | green chilies diced |
| 2 1/4 | ounces | black olives sliced |
| 1 | clove | garlic -- minced |
| 1 | large | shallot -- minced |
| 8 | ounces | no salt added tomato sauce |
| 2 | tablespoons | no salt added tomato paste |
| 1/2 | teaspoon | cumin |
| 1 | tablespoon | pimientos -- diced |
| 1/2 | teaspoon | salt |
| 1/4 | teaspoon | ground black pepper |
| 1/4 | teaspoon | smoked paprika |
| 1/4 | teaspoon | dry mustard |
| 1 | teaspoon | low sodium Worcestershire sauce |
| 1 | cup | frozen corn -- defrosted |
| 1 | teaspoon | oregano -- Mexican |
| 1 | cup | low fat sour cream |
| 1 | cup | Mexican four cheese |
| 16 | whole | flour tortillas -- fajita size |
Add oil to large skillet ad heat to medium. Add beef and shallots and cook until no pink remain in beef and shallots are softened. Drain.

Add tomato paste, chili powder, cumin, paprika, Worcestershire sauce, salt, pepper, oregano, mustard, and garlic. Cook for one minute.

Add corn, tomatoes, green chilies, pimentos, beans, olives, and tomato sauce. Mix well. Let simmer for 15 minutes.

Spread mixture down center of tortilla and fold like a letter.

Top with cheese and sour cream.

Makes 16 Burritos.

Per Burrito: 303 Calories; 14g Fat (44.8% calories from fat); 12g Protein; 28g Carbohydrate; 3g Dietary Fiber; 36mg Cholesterol; 601mg Sodium. Exchanges: 0 Grain (Starch); 1 Lean Meat; 1/2 Vegetable; 1 Fat; 0 Other Carbohydrates.