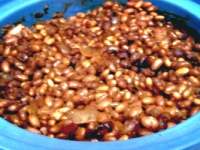 Crockpot Baked Beans Times Four
| | | |
| --- | --- | --- |
| Amount | Measure | Ingredient -- Preparation Method |
| -------- | ------------ | -------------------------------- |
| 15 | ounces | pork and beans -- drained |
| 15 | ounces | low sodium lima beans -- drained |
| 15 | ounces | garbanzo beans -- drained |
| 15 | ounces | low sodium kidney beans -- drained |
| 3/4 | pound | extra lean ground beef |
| 8 | ounces | no salt added tomato sauce |
| 1 | tablespoon | Dijon mustard |
| 1 | small | onion -- finely diced |
| 1/2 | cup | dark brown sugar |
| 2 | tablespoons | molasses |
| 1/4 | cup | chili garlic sauce |

Drain and rinse all of the beans and place them in a slow cooker.

Brown meat until no pink remains and onion until softened. Drain and add to crockpot.

Mix mustard, tomato sauce, brown sugar, molasses, and chili garlic sauce together. Pour over beans and meat and mix thoroughly.

Cook on LOW for 5 to 6 hours or on HIGH for 2 to 3 hours.

Makes 6 servings.

Per Serving: 508 Calories; 12g Fat (20.3% calories from fat); 26g Protein; 78g Carbohydrate; 17g Dietary Fiber; 33mg Cholesterol; 475mg Sodium. Exchanges: 4 Grain (Starch); 1 1/2 Lean Meat; 1/2 Vegetable; 1 Fat; 1 Other Carbohydrates.