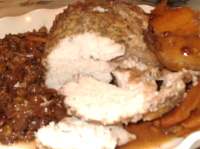 Turkey Breast with Sweet Potatoes and Cranberry Relish
| | | |
| --- | --- | --- |
| Amount | Measure | Ingredient -- Preparation Method |
| -------- | ------------ | -------------------------------- |
| 3 | pounds | turkey breast -- boneless & skinless |
| 2 | large | sweet potatoes -- peeled & sliced |
| 1 | medium | sweet onion -- sliced |
| 1 | cup | cranberries -- chopped |
| 1/2 | cup | raisins -- seedless |
| 1/2 | cup | walnuts -- diced |
| 1/2 | cup | fresh orange juice |
| 1 | cup | packed brown sugar |
| 1 | teaspoon | cinnamon |
| 1/2 | teaspoon | nutmeg |
| 1 | teaspoon | ginger root -- finely minced |
| 1/2 | cup | sherry |
| 1/2 | teaspoon | salt |
| 1/4 | teaspoon | pepper |
| 1 | teaspoon | poultry seasoning |
| 2 | tablespoons | butter |
| 2 | tablespoons | olive oil |
Peel and thinly slice sweet potatoes. Put in ice water to keep from browning.
Melt butter with the olive oil in a saucepan and add onions. Cook until onions are caramelized.
Add cranberries, raisins, walnuts, orange juice, brown sugar, cinnamon, nutmeg, ginger and sherry. Heat to boiling stirring constantly.
Remove net from turkey breast if there is one. Remove all visible chunks of fat.

Mix salt, pepper and poultry seasoning. Sprinkle over turkey breast on all sides and rub in.

Put turkey breast in crockpot. Drain and pat dry the potatoes and arrange around the turkey breast.
Pour cranberry sauce over turkey breast and potatoes.
Cover and cook on Low for 8 to 10 hours or High 4 to 5 hours.

Makes 6 servings.
Per Serving: 663 Calories; 16g Fat (22.5% calories from fat); 60g Protein; 65g Carbohydrate; 4g Dietary Fiber; 151mg Cholesterol; 352mg Sodium. Exchanges: 1 Grain (Starch); 7 Lean Meat; 1/2 Vegetable; 1 Fruit; 2 1/2 Fat; 2 1/2 Other Carbohydrates.