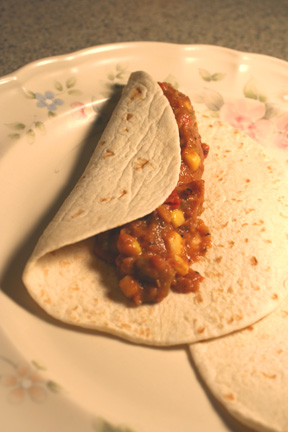 Tomato, Corn, and Beans Burritos
| | | |
| --- | --- | --- |
| Amount | Measure | Ingredient -- Preparation Method |
| -------- | ------------ | -------------------------------- |
| 14 1/2 | ounces | tomatoes -- fire roasted diced -- drained |
| 16 | ounces | fat-free refried beans |
| 1 | cup | frozen corn -- drained |
| 4 1/2 | ounces | green chilies |
| 2 | ounces | pimientos -- diced and drained |
| 1 | clove | garlic -- minced |
| 1 | small | shallot -- minced |
| 1 | tablespoon | vegetable oil |
| 1 | teaspoon | chili powder |
| 1/2 | teaspoon | cumin |
| 1/4 | cup | low sodium vegetable juice |
| 1/2 | teaspoon | oregano |
| 1/2 | cup | low sodium cheddar cheese -- shredded |
| 10 | | flour tortillas -- fajita size |
| 1/2 | teaspoon | seasoned salt |
| 1/4 | teaspoon | seasoned pepper |
| 1 | tablespoon | low sodium Worcestershire sauce |

Heat oil in saucepan and add shallot. Cook until softened.

Add garlic, chili powder, and cumin. Cook until fragrant about 30 seconds.

Add tomatoes, beans, corn, green chilies, oregano, salt, pepper, and vegetable juice. Heat through.

Spread mixture down the center of tortilla and fold sides over.

Top with cheese and microwave for one minute to melt cheese.

Makes 10 servings.

Per Serving: 339 Calories; 9g Fat (22.9% calories from fat); 10g Protein; 54g Carbohydrate; 5g Dietary Fiber; 6mg Cholesterol; 695mg Sodium. Exchanges: 3 1/2 Grain (Starch); 0 Lean Meat; 1/2 Vegetable; 1 1/2 Fat; 0 Other Carbohydrates.