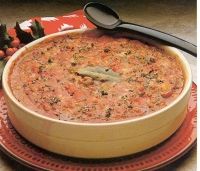 Tex-Mex Vegetable Rice Soup
| | | |
| --- | --- | --- |
| Amount | Measure | Ingredient -- Preparation Method |
| -------- | ------------ | -------------------------------- |
| 15 | ounces | pinto beans -- drained |
| 10 | ounces | no salt added Rotel diced tomatoes and green chilies |
| 8 | ounces | mushroom -- sliced |
| 1 | small | green pepper -- diced |
| 1/2 | cup | celery -- sliced |
| 1 | cup | frozen peas |
| 1 | cup | frozen corn |
| 4 | ounces | green chilies -- drained & diced |
| 11 1/2 | ounces | salsa |
| 32 | ounces | low sodium vegetable broth |
| 6 | ounces | no salt added tomato paste |
| 8 | ounces | no salt added tomato sauce |
| 1 | small | onion -- diced |
| 2 | cloves | garlic -- minced |
| 1 | teaspoon | chili powder |
| 1/2 | teaspoon | cumin |
| 1/2 | teaspoon | oregano |
| 1 | tablespoon | vegetable oil |
Heat oil in large saucepan or Dutch oven. Add onion and garlic and cook until softened.
Add rest of ingredients and mix well. Heat to boiling.
Lower heat and simmer for 30 minutes.

Makes 8 servings.
Per Serving: 333 Calories; 3g Fat (7.6% calories from fat); 21g Protein; 59g Carbohydrate; 19g Dietary Fiber; 0mg Cholesterol; 305mg Sodium. Exchanges: 3 Grain (Starch); 1 Lean Meat; 2 Vegetable; 1/2 Fat.