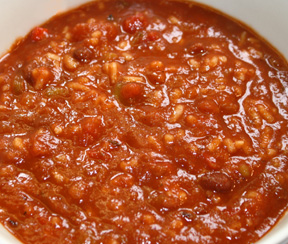 Tex-Mex Black Beans & Rice Soup
| | | |
| --- | --- | --- |
| Amount | Measure | Ingredient -- Preparation Method |
| -------- | ------------ | -------------------------------- |
| 4 | ounces | canned diced green chilies -- drained |
| 16 | ounces | low fat black beans - canned |
| 14 1/2 | ounces | no salt added diced tomatoes -- drained |
| 8 | ounces | no salt added tomato sauce |
| 6 | ounces | no salt added tomato paste |
| 2 | ounces | pimientos - canned -- drained |
| 1 | small | onion -- diced |
| 2 | cloves | garlic -- minced |
| 1/4 | teaspoon | crushed red pepper |
| 1 | teaspoon | cumin powder |
| 1 | teaspoon | dried oregano |
| 1 | tablespoon | chili powder |
| 1 | cup | V-8® vegetable juice - no added salt |
| 2 | cups | low sodium vegetable broth |
| 1 | teaspoon | salt |
| 1 | tablespoon | vegetable oil |
| 1 | cup | instant rice |
Heat oil. Add onion and cook until softened

Add garlic, red pepper, cumin, oregano, chili powder and tomato paste. Cook one minute until spices bloom.

Add green chilies, black beans, pimentos, and tomatoes and heat for a minute or two.

Add tomato sauce, vegetable broth and V8 and heat to boiling. Reduce heat and simmer 15 minutes.

Add rice and simmer an additional 15 minutes.

Makes 10 servings.
Per Serving: 151 Calories; 2g Fat (10.2% calories from fat); 7g Protein; 26g Carbohydrate; 8g Dietary Fiber; 1mg Cholesterol; 572mg Sodium. Exchanges: 1/2 Grain (Starch); 1/2 Lean Meat; 1 1/2 Vegetable; 1/2 Fat.