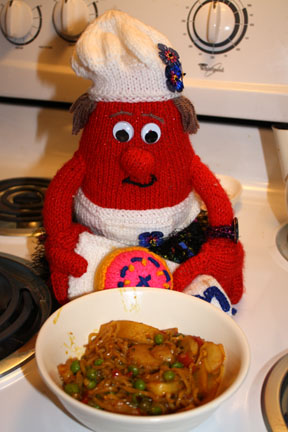 Sweet and Sour, Hot and Spicy Raman
| | | |
| --- | --- | --- |
| Amount | Measure | Ingredient -- Preparation Method |
| -------- | ------------ | -------------------------------- |
| 5 | ounces | bamboo shoots -- canned -- drained and sliced |
| 5 | ounces | water chestnuts -- canned -- drained and sliced |
| 1 | cup | frozen peas -- defrosted |
| 1 | whole | roasted sweet red pepper -- diced |
| 1 | clove | garlic -- minced fine |
| 1 | whole | shallot -- minced fine |
| 1 | tablespoon | ginger root -- minced fine |
| 3 | ounces | ramen |
| 1 | tablespoon | rice wine vinegar |
| 1 | tablespoon | Tiger Sauce or other chili sauce |
| 1 | tablespoon | hoisin sauce |
| 1 | tablespoon | plum sauce |
| 1 | tablespoon | low sodium soy sauce |
| 1 | teaspoon | sesame oil |
| 1/4 | teaspoon | crushed red pepper flakes |
| 1 | tablespoon | freeze-dried chives |
| 2 | tablespoons | dark brown sugar -- packed |
| 1 | teaspoon | turmeric |
| 1 | teaspoon | dry mustard |
| 2 | tablespoons | olive oil |
Discard flavor packet with ramen. Cook noodles per package instructions. Drain.

Mix vinegar, soy sauce, hoisin, chili sauce, plum sauce, and sesame oil together. Set aside.

Mix red pepper, chives, sugar, turmeric, and mustard together. Set aside.

Add oil to wok or large frying pan and heat to medium high.

Add shallots, garlic, and ginger to hot pan and cook 30 seconds or until fragrant.

Add water chestnuts, bamboo shoots, red pepper, and peas to pan and cook for one minute.

Add noodles and cook for one minute.

Add spices and sauce and cook until sauce bubbles and everything is coated.

Makes 6 servings.
Per Serving: 119 Calories; 6g Fat (41.8% calories from fat); 2g Protein; 15g Carbohydrate; 2g Dietary Fiber; trace Cholesterol; 229mg Sodium. Exchanges: 0 Grain (Starch); 0 Lean Meat; 1 Vegetable; 0 Fruit; 1 Fat; 1/2 Other Carbohydrates.