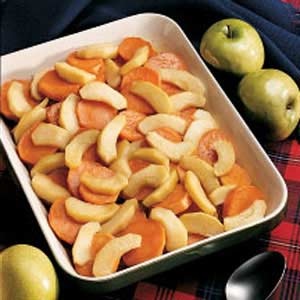 Sweet Potatoes and Apples
| | | |
| --- | --- | --- |
| Amount | Measure | Ingredient -- Preparation Method |
| -------- | ------------ | -------------------------------- |
| 2 | large | sweet potatoes -- peeled and sliced |
| 2 | large | Granny Smith apples -- peeled and sliced |
| 1/4 | cup | orange juice |
| 2 | tablespoons | maple syrup |
| 2 | tablespoons | sherry |
| 1/8 | cup | dark brown sugar |
| 1 | teaspoon | cinnamon |
| 1/2 | teaspoon | nutmeg |
| 1/2 | teaspoon | allspice |
| 1 | tablespoon | water |
| 2 | teaspoons | cornstarch |
Heat oven to 350°F.

Boil potatoes for 15 to 20 minutes or until tender. Drain

In a saucepan heat orange juice, brown sugar, cinnamon, nutmeg, and allspice together. Bring to a boil.

Mix the water and cornstarch until a lump free slurry is made and stir into orange juice mixture. Heat stirring until the sauce thickens.

Layer sweet potatoes and apples in a casserole dish. Pour sauce over top.

Bake for 30 minutes or until browned.

Makes 6 servings.
Per Serving: 118 Calories; trace Fat (2.3% calories from fat); 1g Protein; 27g Carbohydrate; 2g Dietary Fiber; 0mg Cholesterol; 10mg Sodium. Exchanges: 1 Grain (Starch); 1/2 Fruit; 0 Fat; 1/2 Other Carbohydrates.