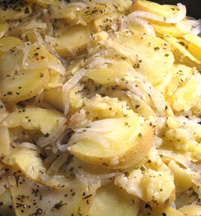 Sweet Onions and Potatoes
| | | |
| --- | --- | --- |
| Amount | Measure | Ingredient -- Preparation Method |
| -------- | ------------ | -------------------------------- |
| 2 | tablespoons | butter |
| 1 | teaspoon | dried basil |
| 1 | teaspoon | salt |
| 1/4 | teaspoon | ground black pepper |
| 1 | tablespoon | freeze-dried chives |
| 1 | medium | Vidalia onion -- sliced |
| 4 | medium | Yukon Gold potatoes -- sliced |
| 1/2 | cup | water |
Melt butter in large frying pan. Layer onions and potatoes and sprinkle with salt, pepper, basil and chives.
Pour water over onions and potatoes. Cover and cook on medium for 30 minutes.
Makes 6 servings.
Per Serving: 88 Calories; 4g Fat (39.4% calories from fat); 2g Protein; 12g Carbohydrate; 1g Dietary Fiber; 10mg Cholesterol; 399mg Sodium. Exchanges: 0 Grain (Starch); 1/2 Vegetable; 1 Fat.