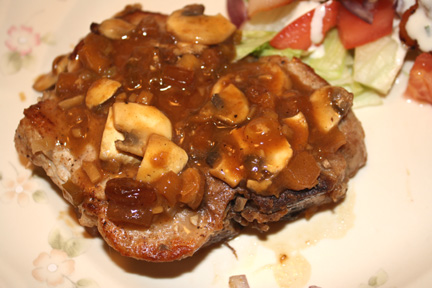 Stuffed Pork Chops in Teriyaki Mushroom Sauce
| | | |
| --- | --- | --- |
| Amount | Measure | Ingredient -- Preparation Method |
| -------- | ------------ | -------------------------------- |
| 6 | medium | pork center loin chops -- 1" thick |
| 1/4 | cup | golden seedless raisins |
| 1/4 | cup | celery -- finely diced |
| 1/4 | cup | dried apples -- finely diced |
| 8 | ounces | mushrooms -- sliced |
| 1/2 | cup | sherry |
| 1 | clove | garlic -- minced fine |
| 1 | teaspoon | fresh ginger root -- minced fine |
| 2 | tablespoons | butter -- divided |
| 2 | tablespoons | olive oil -- divided |
| 1/2 | cup | low sodium beef broth |
| 1/4 | cup | low sodium teriyaki sauce |
| 2 | tablespoons | flour |
| 1/2 | teaspoon | salt |
| 1/4 | teaspoon | pepper |
| 1 | teaspoon | five-spice powder |
Finely dice enough mushrooms to make 1/4 cup. Put in small bowl along with raisins, celery and apples. Add sherry and let soak for 15 minutes.
Trim fat from pork chops. Make a slit through center of chop lengthwise being careful not to cut all the way through to the other side.
Drain fruit stuffing reserving the rest of sherry. Put stuffing in pocket of chop. Fasten with skewer or toothpick. Keep any stuffing left over.
Mix flour, salt, pepper and five spice well on a plate. Dip chops in flour mixture shaking off excess. Keep rest of flour mixture.
Melt 1 tablespoon of butter along with 1 tablespoon of olive oil in a large frying pan over high heat. Brown chops on all sides. Remove from pan.
Add remaining butter and oil. Reduce heat to medium. Add garlic and ginger and cook for a minute. Add rest of mushrooms and any remaining stuffing and cook for 5 minutes stirring to keep from burning.
Add beef broth, teriyaki sauce and remaining sherry to pan. Deglaze the browned bits from bottom of pan. Add pork chops. Cover and simmer on low for 30 minutes.
Remove chops from pan. Add remaining flour mixture to pan and raise heat to high. Cook stirring until gravy thickens and sauce reduces about 3 minutes. Pour over chops.

Makes 6 servings.
Per Serving: 387 Calories; 23g Fat (55.8% calories from fat); 26g Protein; 15g Carbohydrate; 1g Dietary Fiber; 85mg Cholesterol; 445mg Sodium. Exchanges: 0 Grain (Starch); 3 1/2 Lean Meat; 1 Vegetable; 1/2 Fruit; 2 1/2 Fat.