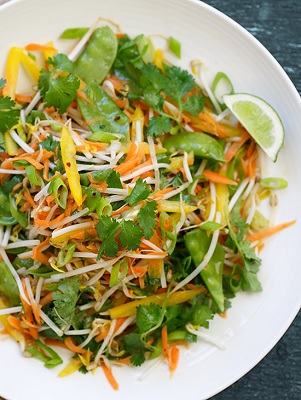 Stir Fry Gingered Vegetables
| | | |
| --- | --- | --- |
| Amount | Measure | Ingredient -- Preparation Method |
| -------- | ------------ | -------------------------------- |
| 1 | cup | green beans -- sliced |
| 1 | cup | snow pea pods -- fresh -- whole -- strings removed |
| 1 | cup | carrots -- julienned |
| 8 | ounces | mushroom caps -- sliced |
| 1 | small | red bell pepper -- diced |
| 1 | small | shallot -- minced |
| 1 | clove | garlic -- minced |
| 1 | teaspoon | ginger root -- minced |
| 2 | tablespoons | vegetable oil |
| 2 | tablespoons | low sodium soy sauce |
| 2 | tablespoons | sherry |
| 1 | teaspoon | sesame oil |
| 1/2 | teaspoon | five-spice powder |
| 1 | teaspoon | cornstarch |
| 1 | tablespoon | brown sugar -- packed |
Heat wok to high. Add 1 tablespoon of oil and swirl to coat sides.

Add carrots, pepper, and green beans. Cook 2 to 3 minutes or until vegetables start to soften. Push vegetables to side.

Add remaining oil along with shallots, garlic, and ginger root. Cook for 1 minute.

Mix soy sauce, sherry, sesame oil, brown sugar, cornstarch, and five spice powder together.

Push vegetables from center of wok and add sauce. Heat to boiling.

Coat vegetables with sauce. Heat everything through.

Makes 6 servings.
Per Serving: 103 Calories; 6g Fat (48.1% calories from fat); 2g Protein; 11g Carbohydrate; 2g Dietary Fiber; 0mg Cholesterol; 212mg Sodium. Exchanges: 0 Grain (Starch); 1 1/2 Vegetable; 1 Fat; 0 Other Carbohydrates.