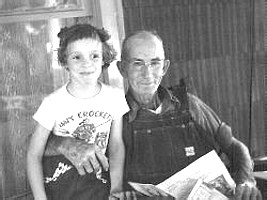 The Love in Your Smile
They say you're not beautiful.
They say you're not grand.
They say you're just
An ordinary man.
They say you won't set
The world on fire
Or make the angels sing.
They say you aren't special
And won't amount to anything.

But they have never seen
The love in your smile.
They never felt
Your arms encircling.
They have never listened to
Your heart beat with joy.
Or known the happiness you bring.
There is a beauty about you
That words can not express.
A gentle touch,
A warm caress,
A love more grand
Than poets can express
Is the love that you gave to us.
Rest peaceful in the love
Of God's embrace.
And know that we remember you still.
The beauty of your life,
The warmth of your touch,
In our hearts always will
Live and grow
As always we will know
The love in your smile
by Michele Elaine Wilson © 1997