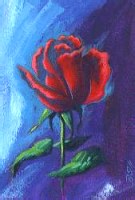 The Wise Old Sage and the Rose
A small moment captured in time
Showing a gentle old man in blue
Holding a single yellow rose
Made by his daughter's loving hand.

He had waited for the moment
When his little girl became a woman,
But such a short walk
Between skinned knees and a wedding gown.
Love let him give her hand to another man
So that he could love and cherish her the way he did.
She changed her name but gave him a grandson.

Life had been long and much he had seen,
All the good times and the bad,
All the happy times and the sad.
Some dreams came true, some failed,
But through it all love enveloped him
Because he gave it to all he touched.


And on His throne God looked around and thought,
"Something is missing up here."
And looking down below at his blue-green ball
He saw a sphere of love emanating from one frail man.
And knowing that the love and memories
Would keep him alive in all those he touched
He reached out His hand and took the man's hand in His
And He smiled.
"Welcome to Heaven, you have made us complete
Because we were lacking
The wise old sage and the rose."
Poem by by Michele Elaine Wilson © 1996