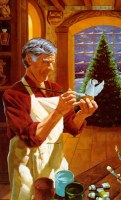 I Will Remember
Long walks through verdant fields.
Shopping at the five and dime.
In tears I ran to you
And you always had the time.
The smile that lit your face
Is impressed on my mind.
All the memories of your love
I will remember.

To others it looked like junk,
But my treasures you helped find.
While some caused me tears,
You were always kind.
Memories can fade away,
Out sight, out of mind.
When it comes to you
I will remember.

Your hands were rough and worn
As I held them in mine.
Fleeting are the days,
We can't stop the hands of time.
Love will never die,
It is burned in my mind.
Your unconditional love
I will remember.

Swiftly flow the years,
The relentless march of time.
The colors of the days
Are slipping from my mind.
The warmth of your love
Will stand the test of time.
How special you were to me
I will remember.

by Michele Elaine Wilson © 1998