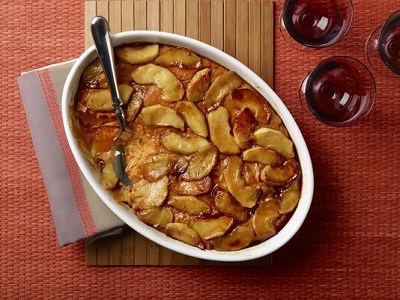 Potatoes and Apples -- Himmel und Erde
| | | |
| --- | --- | --- |
| Amount | Measure | Ingredient -- Preparation Method |
| -------- | ------------ | -------------------------------- |
| 1 | pound | Yukon Gold potatoes -- sliced |
| 1 | pound | Granny Smith apples -- sliced |
| 1 | medium | sweet onion -- sliced |
| 2 | tablespoons | unsalted butter |
| 1/2 | teaspoon | salt |
| 1/4 | teaspoon | white pepper |
| 1 | tablespoon | Dijon mustard |
| 1/2 | teaspoon | allspice |
| 1 | cup | apple juice |
| 3/4 | cup | white wine |
Heat oven to 400°F.

Melt butter in skillet and add onions. Cook until caramelized about 20 minutes. Cool.

Mix apples, potatoes, cooled onions, salt, pepper, allspice and Dijon. Stir to coat evenly.

Place vegetables in a 13x9 inch casserole dish.

Mix juice and wine together and pour over vegetables.

Cover and cook for 25 minutes.

Remove and cook for another 10 minutes.

Notes: You don't need to peel the potatoes or apples.

Makes 6 servings.
Per Serving: 177 Calories; 4g Fat (23.1% calories from fat); 2g Protein; 28g Carbohydrate; 3g Dietary Fiber; 10mg Cholesterol; 219mg Sodium. Exchanges: 0 Grain (Starch); 0 Lean Meat; 1/2 Vegetable; 1 Fruit; 1 Fat; 0 Other Carbohydrates.