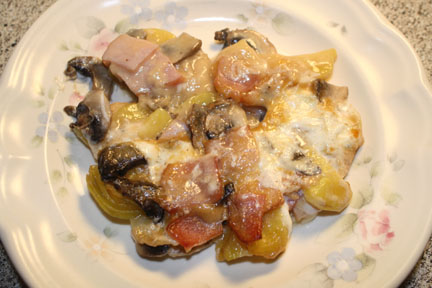 Potato and Mushroom Gratin
| | | |
| --- | --- | --- |
| Amount | Measure | Ingredient -- Preparation Method |
| -------- | ------------ | -------------------------------- |
| 2 | tablespoons | unsalted butter |
| 2 | tablespoons | all-purpose flour |
| 1/2 | teaspoon | salt |
| 1/4 | teaspoon | white pepper |
| 1/8 | teaspoon | ground cloves |
| 1 | small | shallot -- minced |
| 1 | clove | garlic -- minced |
| 1 | teaspoon | Dijon mustard |
| 6 | ounces | Canadian bacon -- diced |
| 1 | pound | Yukon Gold potatoes -- sliced |
| 8 | ounces | mushroom caps -- sliced |
| 8 | ounces | mozzarella cheese -- diced |
| 1/2 | cup | grated fresh Parmesan cheese |
| 1 | cup | fat free evaporated milk |
Heat enough water to cover the potatoes to boiling. Add potatoes and cook for 10 minutes. Drain.

Melt the butter in a small saucepan over medium heat. Add the shallot and mushrooms and cook until shallot softens and mushrooms lose some of their moisture.

Add flour, garlic, salt, pepper, cloves, and Dijon. Stir until lump free.

Add milk and stir constantly over medium high until sauce thickens.

In a 2 quart casserole layer 1/2 of the potatoes, 1/2 of the mushrooms, 1/2 of the mozzarella, half of the Canadian bacon, and half the sauce.

Repeat layers.

Sprinkle Parmesan on top.

Cover and bake for 30 minutes.

Uncover and bake for an additional 15 minutes.

Makes 8 servings.
Per Serving: 481 Calories; 13g Fat (45.4% calories from fat); 17g Protein; 18g Carbohydrate; 1g Dietary Fiber; 48mg Cholesterol; 696mg Sodium. Exchanges: 0 Grain (Starch); 2 Lean Meat; 1/2 Vegetable; 1 1/2 Fat; 0 Other Carbohydrates.