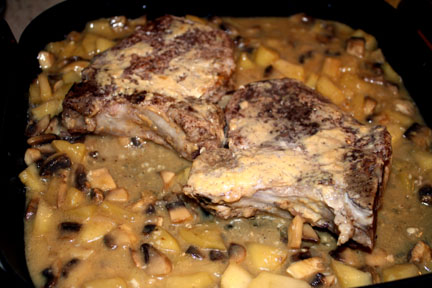 Pork Chops in Mushroom Sauce
| | | |
| --- | --- | --- |
| Amount | Measure | Ingredient -- Preparation Method |
| -------- | ------------ | -------------------------------- |
| 3 | pounds | pork loin chops -- thick cut |
| 5 | ounces | low fat evaporated milk |
| 1/2 | teaspoon | salt |
| 1/4 | teaspoon | pepper |
| 1 | teaspoon | allspice |
| 8 | ounces | mushrooms -- sliced |
| 1 | small | shallot -- minced |
| 1 | clove | garlic -- minced |
| 1 | tablespoon | Dijon mustard |
| 1 | tablespoon | butter |
| 1 | tablespoon | olive oil |
| 1 | large | golden Delicious apple -- diced |
| 2 | teaspoons | cornstarch |
Mix salt, pepper and allspice together and sprinkle on both sides of the chops and rub the spices into the meat.

Heat a large frying pan and add the butter and olive oil. Add chops and brown on both sides. Remove from pan.

Add the mushrooms, shallot and apple to frying pan. Cook until shallot is soft around 10 minutes. Add garlic and cook for 30 seconds.

Add chops back to pan.

Mix dijon mustard, cornstarch, and milk. Heat in a small saucepan to boiling. Stir constantly until thickened. Pour over pork chops.

Cover pork chops and vegetables and simmer on low for 30 minutes.

Makes 6 servings.
Per Serving: 275 Calories; 12g Fat (40.9% calories from fat); 31g Protein; 9g Carbohydrate; 1g Dietary Fiber; 77mg Cholesterol; 298mg Sodium. Exchanges: 0 Grain(Starch); 4 Lean Meat; 1/2 Vegetable; 0 Fruit; 0 Non-Fat Milk; 1 Fat; 0 Other Carbohydrates.