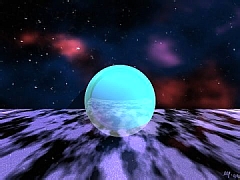 On the Edge of a Dream
On the edge of a dream I stand.
My hopes and dreams are now at hand.
Darkness and fear are at an end.
The joy and love can now begin.
The greatest hope I ever knew,
Is springing from out of the blue,
And making all my dreams come true,
And bringing days of promise too.
I once was alone and afraid,
Afraid to go, afraid to stay.
I felt that I had lost my way
And all my hopes had gone away.
I feared I could no longer dream.
I knew not what my life did mean.
My life was like a raging stream,
Washing away all of my dreams.
I have climbed up from my despair.
I reached for love and found it there.
A place of goodness and that where
My dreams can float on summer's air.
A place where pain can not come in.
A place where dreams can now begin.
A place where love has entered in.
A place where I've been welcomed in.

And as I reach up towards the sky,
I feel like I can soar and fly.
I know if I will only try
That all my dreams won't pass me by.
If I should see another night
Where I can't see a dream in sight,
I know that all will still be right
If I believe with all my might.
Poem and art work by Michele Elaine Wilson © 1999