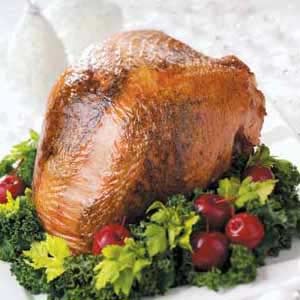 Oven Roasted Turkey Breast
| | | |
| --- | --- | --- |
| Amount | Measure | Ingredient -- Preparation Method |
| -------- | ------------ | -------------------------------- |
| 3 | pounds | turkey breast |
| 1/4 | cup | unsalted butter -- softened |
| 1/4 | cup | white wine |
| 1/2 | teaspoon | salt |
| 1/4 | teaspoon | paprika |
| 1 | small | shallot -- minced |
| 1 | clove | garlic -- minced |
| 1 | teaspoon | Dijon mustard |
| 1 | teaspoon | Italian seasoning |
| 1 | cup | water |
Heat oven to 325°F.

Mix butter, wine, salt, paprika, shallot, garlic, Dijon, and Italian seasoning together. Loosen skin and place half of mixture rubbing in well.

Rub the outside with the remaining butter mixture.

Place the turkey skin side up in a rack over a roasting pan. Pour water in pan.

Roast uncover for 2 to 2 1/2 hours or until turkey is cooked through to 165°F on an instant read thermometer.

Makes 6 servings.
Per Serving: 399 Calories; 22g Fat (52.1% calories from fat); 45g Protein; 1g Carbohydrate; trace Dietary Fiber; 153mg Cholesterol; 312mg Sodium. Exchanges: 0 Grain (Starch); 6 1/2 Lean Meat; 0 Vegetable; 1 1/2 Fat; 0 Other Carbohydrates.