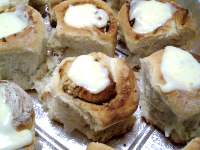 Nutty Orange-Cinnamon Rolls
| | | |
| --- | --- | --- |
| Amount | Measure | Ingredient -- Preparation Method |
| -------- | ------------ | -------------------------------- |
| 16 | ounces | frozen bread dough -- thawed |
| 2 | tablespoons | butter -- melted |
| 4 | tablespoons | sugar |
| 2 | teaspoons | cinnamon |
| 1/4 | cup | walnuts -- minced fine |
| 2 | tablespoons | orange zest -- minced very fine |
| 1/2 | cup | powdered sugar -- sifted |
| 4 | teaspoons | orange juice -- fresh |
| 1/2 | teaspoon | orange zest -- minced very fine |
| | | vegetable oil spray |

Roll dough into a 12x8 inch rectangle. Brush with melted butter.

Mix sugar and cinnamon together and sprinkle evenly over buttered dough.

Sprinkle nuts and 2 tablespoons of orange zest evenly over dough.

Roll dough tightly lengthwise to make a 12 inch log. Slice into 12 one
inch wide slices.

Spray a 9 inch round cake pan with vegetable spray. Place slices cut side
down. Cover and let rise in a warm place until doubled in size.

Heat oven to 375°F. Bake for 20 to 25 minutes or until golden brown.

Mix powdered sugar, orange juice and 1/2 teaspoon of orange zest to make
icing. Drizzle over warm rolls.

Per Serving: 177 Calories; 5g Fat (25.2% calories from fat); 4g Protein; 28g Carbohydrate; 2g Dietary Fiber; 5mg Cholesterol; 231mg Sodium. Exchanges: 0 Grain (Starch); 0 Lean Meat; 0 Fruit; 1/2 Fat; 1/2 Other Carbohydrates.