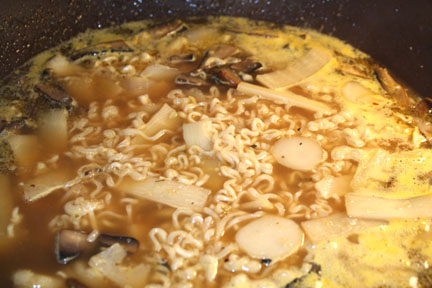 New Year's Eve Ramen Soup
| | | |
| --- | --- | --- |
| Amount | Measure | Ingredient -- Preparation Method |
| -------- | ------------ | -------------------------------- |
| 1 | whole | shallot -- minced fine |
| 1 | teaspoon | ginger root -- minced fine |
| 1 | clove | garlic -- minced fine |
| 6 | ounces | Portobello mushroom caps -- sliced |
| 3 | tablespoons | vegetable oil |
| 5 | ounces | bamboo shoots -- canned -- drained |
| 5 | ounces | water chestnuts -- canned -- drained |
| 2 | tablespoons | low sodium soy sauce |
| 1 | teaspoon | Tiger Sauce -- or other chili sauce |
| 1 | teaspoon | sesame oil |
| 1 | teaspoon | Lawry's Asian Seasoning |
| 4 | cups | low sodium vegetable broth |
| 3 | ounces | ramen |
Scrap the black gills from the mushroom caps. Slice caps in half. Slice the halved mushroom caps about 1/2 inch thick.

Heat 2 tablespoons of the oil in large saucepan, Dutch oven, or wok to medium. Add mushrooms and cook until browned about three minutes.

Add remaining oil to pan and add ginger, shallots, and garlic and cook until fragrant about 30 seconds.

Add bamboo shoots and water chestnuts and cook for one to two minutes.

Mix soy sauce, Asian seasoning, Tiger Sauce, and sesame oil in a small bowl. Add to vegetable mixture and stir to coat.

Add broth and heat until boiling.

Add ramen noodles stirring to break up and heat for three to four minutes.

Makes 6 servings.
Per Serving: 131 Calories; 8g Fat (51.5% calories from fat); 9g Protein; 8g Carbohydrate; 3g Dietary Fiber; 51mg Cholesterol; 565mg Sodium. Exchanges: 1 Lean Meat; 1 Vegetable; 1 1/2 Fat.