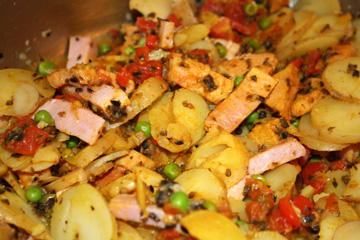 Mediterranean Ham and Vegetables
| | | |
| --- | --- | --- |
| Amount | Measure | Ingredient -- Preparation Method |
| -------- | ------------ | -------------------------------- |
| 1 1/2 | pounds | Yukon Gold potatoes -- sliced |
| 3 | cups | water |
| 4 1/4 | ounces | black olives -- sliced or diced |
| 14 1/2 | ounces | no-salt-added whole tomatoes -- diced |
| 6 | ounces | roasted red peppers -- sliced |
| 2 | ounces | pimientos -- diced |
| 1 | pound | ham center slice -- julienned |
| 1 | cup | frozen peas |
| 1 | whole | shallot -- minced fine |
| 1 | clove | garlic -- minced fine |
| 1 | tablespoon | ginger root -- minced fine |
| 1 | tablespoon | olive oil |
| 1 | teaspoon | turmeric |
| 1 | tablespoon | lemon juice |
| 1 | tablespoon | soy sauce -- low sodium |
Bring water to boil in large frying pan. Add potatoes and cook for 10 minutes. Drain.

Wipe out frying pan and heat to medium. Add olive oil. Add shallots, garlic and ginger and cook until fragrant about 30 seconds.
Add tomatoes, red peppers, pimentos, ham, peas and drained potatoes. Heat through.

Add turmeric, lemon juice and soy sauce. Stir to coat the ham and vegetables.
Makes 8 servings.
Per Serving: 250 Calories; 11g Fat (38.2% calories from fat); 15g Protein; 23g Carbohydrate; 3g Dietary Fiber; 30mg Cholesterol; 1004mg Sodium. Exchanges: 0 Grain (Starch); 1 1/2 Lean Meat; 1 Vegetable; 0 Fruit; 1 Fat.