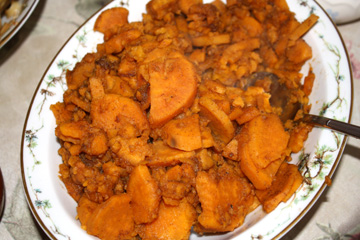 Maple Glazed Sweet Potatoes
| | | |
| --- | --- | --- |
| Amount | Measure | Ingredient -- Preparation Method |
| -------- | ------------ | -------------------------------- |
| 1 | pound | sweet potatoes -- peeled and sliced |
| | | boiling water |
| 1/3 | cup | maple syrup -- pure not artificial |
| 1 | tablespoon | dark brown sugar |
| 1/4 | teaspoon | salt |
| 1/2 | teaspoon | ground cinnamon |
| 1/2 | teaspoon | ground allspice |
In a large skillet bring one inch of water to boil. Put sliced potatoes in boiling water and cover skillet and boil potatoes for 20 minutes or until tender.

Drain potatoes and put back in skillet.

Add maple syrup, brown sugar, cinnamon and allspice to potatoes. Stir to cover potatoes. Simmer for 5 minutes spooning liquid over potatoes until potatoes are glazed.

Makes 4 servings.
Per Serving: 169 Calories; trace Fat (1.7% calories from fat); 1g Protein; 41g Carbohydrate; 3g Dietary Fiber; 0mg Cholesterol; 148mg Sodium. Exchanges: 1 1/2 Grain (Starch); 0 Fat; 1 1/2 Other Carbohydrates.