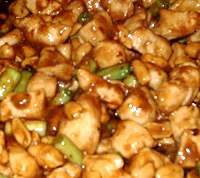 Kung Pao Chicken with a POW
| | | |
| --- | --- | --- |
| Amount | Measure | Ingredient -- Preparation Method |
| -------- | ------------ | -------------------------------- |
| 12 | ounces | chicken breasts without skin -- boneless |
| 1 | tablespoon | sherry -- I use cream sherry for a sweeter taste |
| 1 | teaspoon | cornstarch |
| 1/4 | cup | water |
| 1/4 | cup | soy sauce -- low sodium |
| 4 | teaspoons | cornstarch |
| 1 | tablespoon | sugar |
| 1 | teaspoon | rice wine vinegar |
| 5 | dashes | hot pepper sauce -- I use Tiger Sauce brand |
| 1 | tablespoon | cooking oil |
| 2 | teaspoons | ginger root -- minced |
| 2 | cloves | garlic -- minced |
| 1 | cup | green onions -- cut in 1/2" pieces |
| 1/2 | cup | peanuts |
| 2 | cups | hot cooked rice |
Rinse chicken and pat dry. Cut into 3/4 inch pieces. In a medium bowl, stir together chicken, sherry and 1 teaspoon cornstarch. Let stand for 15 minutes.
For sauce, in a small bowl, stir together water, soy sauce, 4 teaspoons cornstarch, sugar, vinegar and hot pepper sauce. Set aside.
Pour cooking oil into a wok or large skillet and heat over medium-high heat. Stir-fry garlic and ginger root for 15 seconds.
Add chicken mixture; stir fry for 3 to 4 minutes or until meat is no longer pink inside. Push chicken from center of wok.
Stir sauce and add to center of wok. Cook and stir until thick and bubbly.
Add green onions and peanuts and stir to coat with sauce. Cook and stir 1 to 2 minutes more or until heated through. Serve over hot rice. Makes 4 servings.
Per Serving: 379 Calories; 14g Fat (32.3% calories from fat); 24g Protein; 39g Carbohydrate; 3g Dietary Fiber; 39mg Cholesterol; 674mg Sodium. Exchanges: 2 Grain (Starch); 3 Lean Meat; 1 Vegetable; 2 Fat; 0 Other Carbohydrates.