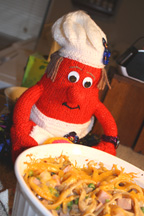 Ham and Noodles Casserole
| | | |
| --- | --- | --- |
| Amount | Measure | Ingredient -- Preparation Method |
| -------- | ------------ | -------------------------------- |
| 8 | ounces | noodles - egg - cooked |
| 1/2 | pound | ham - extra lean -- diced |
| 1 | cup | low sodium cheddar cheese -- shredded |
| 4 | ounces | mushrooms -- diced |
| 1 | cup | hash browns - frozen |
| 1 | cup | frozen peas |
| 1 | small | onion -- diced |
| 1 | clove | garlic -- minced |
| 1 | cup | 2% low-fat milk |
| 2 | tablespoons | butter -- divided |
| 1 | tablespoon | flour - all-purpose |
| 1 | teaspoon | Dijon mustard |
| 1/2 | teaspoon | seasoned salt |
| 1/4 | teaspoon | seasoned pepper |
| 1/2 | teaspoon | ground cloves |
| 1/2 | teaspoon | ground allspice |
Heat oven to 326°F.

Make noodles without using salt according to package instructions. Drain and place in 2 quart casserole dish.

Melt one tablespoon butter in 2 quart saucepan over medium heat. Add onion and garlic and stir for about one minute or until fragrant.

Add mushrooms to sauce pan with onion. Cook for 5 minutes or until mushrooms start to soften.

Add ham, hash browns and peas to saucepan. Heat until vegetables are defrosted and excess water evaporates. Add to casserole dish with noodles.

Melt one tablespoon of butter in saucepan and add flour, salt, pepper, Dijon, allspice and cloves. Mix well.

Slowly add milk and whisk constantly to eliminate any lumps. Heat until boiling and stir until sauce thickens. Pour sauce over ham mixture and mix thoroughly.

Sprinkle cheese over dish and cover and bake for 30 - 45 minutes or until hot and bubbling.
Makes 9 servings.
Per Serving: 197 Calories; 9g Fat (41.5% calories from fat); 12g Protein; 17g Carbohydrate; 2g Dietary Fiber; 42mg Cholesterol; 512mg Sodium. Exchanges: 1 Grain (Starch); 1 Lean Meat; 1/2 Vegetable; 0 Non-Fat Milk; 1 1/2 Fat; 0 Other Carbohydrates.