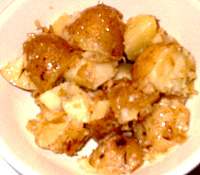 Garlic Potatoes with Caramelized Onions
| | | |
| --- | --- | --- |
| Amount | Measure | Ingredient -- Preparation Method |
| -------- | ----------- | -------------------------------- |
| 1 1/2 | pounds | golden potatoes -- cubed |
| 1 | small | onion -- diced |
| 4 | cloves | garlic -- minced fine |
| 4 | tablespoons | butter -- divided |
| 2 | tablespoons | olive oil |
| 1/2 | teaspoon | salt |
| 1/4 | teaspoon | white pepper |
Heat enough water to cover potatoes by 1 inch to boiling. Add cubed potatoes and reduce heat. Cook for 25 minutes or until a fork easily pierces the potatoes.
While potatoes are cooking heat 2 tablespoons of butter and olive oil in small pan. Add onions. Cooked until caramelized. Stir often to prevent burning. Add garlic and cook for a couple more minutes. Add the remaining butter, salt and pepper. Heat until butter melts. Mix well.
Drain potatoes and return to saucepan. Add onion and garlic mixture. Heat through.

Makes 4 servings.
Per Serving: 286 Calories; 18g Fat (52.8% calories from fat); 5g Protein; 32g Carbohydrate; 4g Dietary Fiber; 31mg Cholesterol; 390mg Sodium. Exchanges: 0 Grain (Starch); 1/2 Vegetable; 3 1/2 Fat.