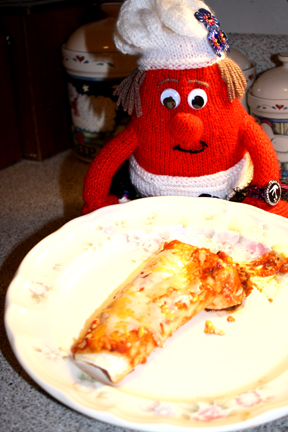 Enchiladas Ole - Vegetarian
| | | |
| --- | --- | --- |
| Amount | Measure | Ingredient -- Preparation Method |
| -------- | ------------ | -------------------------------- |
| 1 | pound | Morning Star Crumbles |
| 14 1/2 | ounces | tomatoes -- Tex-Mex style -- drained and diced |
| 11 | ounces | Mexican style corn |
| 1 | whole | red bell pepper -- minced |
| 1 | large | shallot -- finely minced |
| 1 | clove | garlic -- finely minced |
| 16 | ounces | fat-free refried beans |
| 2 1/4 | ounces | black olives -- chopped |
| 2 | tablespoons | olive oil |
| 2 | teaspoons | seasoned salt -- divided |
| 1 | teaspoon | seasoned pepper -- divided |
| 1 | teaspoon | cumin |
| 1 | tablespoon | chili powder |
| 1/3 | cup | low sodium catsup |
| 6 | ounces | no salt added tomato paste |
| 16 | ounces | no salt added tomato sauce |
| 2 | ounces | pimientos -- diced |
| 4 1/2 | ounces | green chilies -- diced |
| 16 | | tortilla flour -- fajita size |
| 1 | cup | low sodium cheddar cheese -- shredded |
Heat oven to 350°F.

Put tomato sauce, 1 teaspoon salt, 1/2 teaspoon pepper, green chilies, and pimentos into a blender and puree until smooth. You can also put into a small saucepan and use an immersion blender. Put sauce into a small saucepan and heat over medium until bubbling. Reduce heat to low and simmer for 15 minutes.

Add oil to large frying pan. Heat until medium. Add shallots, garlic, ground beef, and red peppers. Cook until vegetables have softened.

Add tomato paste, chili powder, cumin, 1 teaspoon of salt, and remaining 1/2 teaspoon of pepper. Cook until spices are fragrant about one minute.

Add corn, tomatoes, beans, olives, and catsup. Mix well and heat until warm.

In a 13"x9" dish spread 3/4 cup of tomato sauce in bottom of pan. Spread evenly.

Put beef mixture down the center of a tortilla. Fold sides and place seam side down in the sauce. Continue until you have eight bundles. Spread half the remaining sauce over enchiladas and sprinkle with half the cheese.

Put beef mixture in remaining tortillas and place a second layer on top of first. Spread the remaining sauce and cheese on top.

Cover pan with foil and bake in a 350°F oven for 30 minutes.

Notes: You can also use the Mexican style cheese mix.

Makes 12 servings.
Per Serving: 825 Calories; 24g Fat (26.2% calories from fat); 28g Protein; 125g Carbohydrate; 10g Dietary Fiber; 9mg Cholesterol; 1896mg Sodium. Exchanges: 7 Grain (Starch); 1/2 Lean Meat; 1 1/2 Vegetable; 0 Fruit; 4 1/2 Fat; 0 Other Carbohydrates.