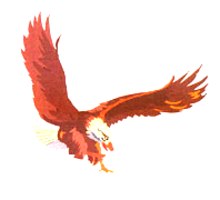 Deep Inside of Me
Deep inside of me,
Yearning to be free
Is a spirit so bright,
A dazzling white light
Of sights and sounds,
Of love unbound,
Waiting to fly
In the ice blue sky.

Awash in the sounds of loneliness
I struggle through the pain inside of me.
Reaching for the touch of a warm caress,
Longing to be happy and free.
Is it wrong to want it all?
Is it wrong to want the best?
To long for a heart to be enthralled.
To love and be loved like all the rest.

I want to fly in the arms of your love.
I want to feel your arms holding me.
I want to be an eagle above
The world shining free.
Can the world be like this?
A place where dreams soar.
Where there is no abyss
And pain is no more?

Deep inside of me
A love was meant to be
Forever and a day
It will always be this way.
For I will love you.
Be a part of you.
Not just today
But for always.
by Michele Elaine Wilson © 1997