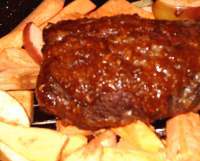 Chinese Pork Roast with Sweet Potatoes and Apples
| | | |
| --- | --- | --- |
| Amount | Measure | Ingredient -- Preparation Method |
| -------- | ------------ | -------------------------------- |
| 2 | pounds | pork roast |
| 2 | large | sweet potatoes |
| 3 | large | apples |
| 1 | large | shallot - minced fine |
| 2 | cloves | garlic - minced fine |
| 1 | teaspoon | ginger root - minced fine |
| 2 | tablespoons | Dijon mustard |
| 1/4 | cup | honey |
| 1 | teaspoon | low sodium soy sauce |
| 1 | tablespoon | hoisin sauce |
| 2 | tablespoons | sherry |
| 1/4 | teaspoon | fresh ground black pepper |
| 1/2 | teaspoon | salt |
| 1 | teaspoon | allspice |
| 1 | tablespoon | butter |
| 1/4 | cup | orange juice |
| 1/4 | cup | brown sugar - packed |
| 1 | teaspoon | five-spice powder |
| 2 | tablespoons | water |
| 2 | tablespoons | cornstarch |
Heat oven to 325°F.
Trim excess fat from the roast. Mix salt, pepper and allspice together and rub over the meat. Let the meat set while making the sauce.
Melt butter in a saucepan. Add shallots, garlic and ginger root. Cook until softened.

Add Dijon mustard, sherry, honey, hoisin sauce and soy sauce to the shallot mixture. Heat until boiling.

Add water and cornstarch and stir until smooth. Add half to the sauce. Cook, stirring constantly, until sauce thickens.
Spread sauce over the pork roast coating all sides. Place meat in a rack in roasting pan. Put a meat thermometer into meat.
Peel sweet potatoes and cut into wedges. Core the apples and cut into wedges. Place in a large bowl.
Mix orange juice, brown sugar and five spice together in a small saucepan. Heat until boiling. Add rest of cornstarch mixture and cook, stirring constantly, until sauce thickens. Pour over apple and sweet potato mixture and toss to coat evenly.

Place sweet potatoes and apples around the roast.
Bake in a 325°F oven for 1 to 1 1/2 hours or until the thermometer reaches 170°F.

Makes 8 servings.
Per Serving: 330 Calories; 13g Fat (34.5% calories from fat); 18g Protein; 36g Carbohydrate; 3g Dietary Fiber; 60mg Cholesterol; 311mg Sodium. Exchanges: 1/2 Grain (Starch); 2 1/2 Lean Meat; 0 Vegetable; 1/2 Fruit; 1 Fat; 1 Other Carbohydrates.