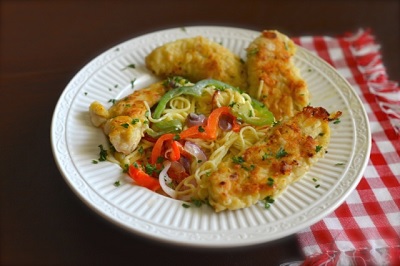 Chicken Scampi - Vegetarian
| | | |
| --- | --- | --- |
| Amount | Measure | Ingredient -- Preparation Method |
| -------- | ------------ | -------------------------------- |
| 2 1/2 | pounds | Morning Star Grillers Chicken -- cut in 1" cubes |
| 2 | tablespoons | olive oil |
| 2 | tablespoons | unsalted butter |
| 2 | cloves | garlic -- minced |
| 1 | whole | shallot -- minced |
| 1/2 | teaspoon | dried basil |
| 1/2 | teaspoon | dried oregano |
| 1/2 | teaspoon | dried thyme |
| 2 | teaspoons | lemon juice |
| 1/2 | cup | white wine |
| 8 | ounces | linguine |
| 1/2 | teaspoon | salt |
| 1/4 | teaspoon | black pepper |
Make linguine according to directions. Drain.
Melt butter with the olive oil. Add chicken and cook until browned on all sides.

Add salt, pepper, basil, oregano and thyme along with the garlic and shallots. Cook a couple of minutes until garlic and shallots soften.

Add lemon juice and white wine. Turn heat to low and simmer until the chicken is thoroughly cooked.

Toss chicken with the drained linguini.

Makes 6 servings.

Notes : You can use your favorite white wine but use something that you would actually drink.

Per Serving: 245 Calories; 9g Fat (36.4% calories from fat); 7g Protein; 31g Carbohydrate; 2g Dietary Fiber; 10mg Cholesterol; 241mg Sodium. Exchanges: 2 Grain (Starch); 0 Vegetable; 0 Fruit; 1 1/2 Fat.