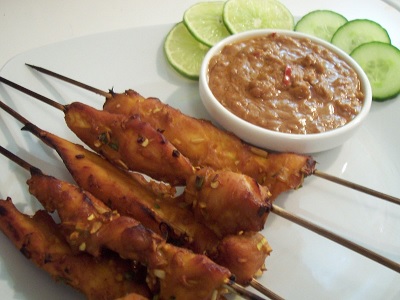 Chicken Satay - Vegetarian
| | | |
| --- | --- | --- |
| Amount | Measure | Ingredient -- Preparation Method |
| -------- | ------------ | -------------------------------- |
| 4 | each | Morning Star Grillers Chicken -- cut into 1" pieces |
| | | bamboo skewers - soaked in water |
| 2 | tablespoons | low sodium soy sauce |
| 2 | tablespoons | lemon juice |
| 1 | teaspoon | turmeric |
| 1/2 | teaspoon | cumin powder |
| 3 | tablespoons | vegetable oil |
| 2 | cloves | garlic -- minced fine |
| 1 | whole | shallot -- minced fine |
| 1/2 | teaspoon | ginger root -- minced fine |
| | | Peanut Sauce |
| 1 | cup | 25% less fat creamy peanut butter |
| 1 | tablespoon | lemon juice |
| 1/2 | cup | 2% milk |
| 1/2 | tablespoon | low sodium soy sauce |
| 1 | tablespoon | dark brown sugar |
| 1/4 | teaspoon | cayenne pepper |
Soak the bamboo skewers in water for at least 30 minutes.

In a bowl mix soy sauce, lemon juice, turmeric, cumin, vegetable oil, garlic, shallot and ginger root together and mix well. Add chicken pieces and cover and let marinade for 30 minutes in a refrigerator.
To make peanut butter sauce in a saucepan heat peanut butter, lemon juice, soy sauce, brown sugar and cayenne pepper. Stir until smooth. Keep warm.

Thread chicken pieces onto skewers. Place under broiler or on grill and broil for 2 to 3 minutes on each side or until cooked through. Serve with peanut sauce.

Makes 4 servings.
Per Serving: 595 Calories; 38g Fat (54.0% calories from fat); 27g Protein; 45g Carbohydrate; 9g Dietary Fiber; 2mg Cholesterol; 1243mg Sodium. Exchanges: 2 Grain (Starch); 1 1/2 Lean Meat; 1/2 Vegetable; 0 Fruit; 0 Non-Fat Milk; 6 Fat; 0 Other Carbohydrates.