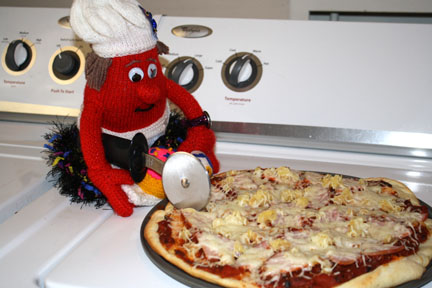 Canadian Bacon and Pineapple Pizza
| | | |
| --- | --- | --- |
| Amount | Measure | Ingredient -- Preparation Method |
| -------- | ------------ | -------------------------------- |
| 20 | ounces | pizza dough |
| 1 | tablespoon | dried onion flakes -- minced |
| 1 | teaspoon | garlic -- dried and minced |
| 8 | ounces | no salt added tomato sauce |
| 6 | ounces | no salt added tomato paste |
| 14 1/2 | ounces | no salt added diced tomatoes -- drained |
| 8 | ounces | pineapple chunks in water -- drained |
| 1/8 | teaspoon | crushed red pepper flakes |
| 1 | teaspoon | Italian seasoning |
| 1/2 | teaspoon | seasoned salt |
| 4 | ounces | Canadian bacon -- diced |
| 1 | cup | Italian five cheese |
| 1/4 | teaspoon | seasoned pepper |
| 2 1/4 | ounces | black olives -- sliced or diced |
| | | vegetable cooking spray |
Heat oven to 425°F.

Spray pans with vegetable oil. Divide the pizza dough into two pans.

Soak onion and garlic in water for fifteen minutes to rehydrate them.

Mix onion, garlic, tomatoes, tomato sauce, tomato paste, crushed red pepper, salt, olives, and Italian seasoning together.

Bake the dough for 8 minutes.

Spread half of the sauce on each pizza. Add half of the Canadian bacon and pineapple to each pizza. Spread each pizza with half of the cheese.

Return the pizza to the oven and bakes 10 minutes.

Makes 16 servings.
Per Serving: 168 Calories; 6g Fat (29.3% calories from fat); 8g Protein; 22g Carbohydrate; 2g Dietary Fiber; 14mg Cholesterol; 301mg Sodium. Exchanges: 1 Grain (Starch); 0 Lean Meat; 1/2 Vegetable; 0 Fruit; 1/2 Fat; 0 Other Carbohydrates.