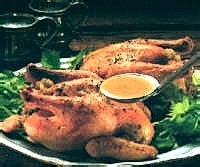 Basil Cornish Hens with Cherry Sauce
| | | |
| --- | --- | --- |
| Amount | Measure | Ingredient -- Preparation Method |
| -------- | ------------ | -------------------------------- |
| 4 | whole | Cornish game hens |
| 4 | tablespoons | butter -- room temperature |
| 2 | tablespoons | lemon juice |
| 1 | tablespoon | dried basil |
| 1/8 | teaspoon | salt |
| 8 | ounces | cherries in light syrup |
| 1 | cup | low sodium chicken broth |
| 1 | whole | shallot -- minced fine |
| 1/8 | teaspoon | ground cloves |
| 1/2 | teaspoon | ground cinnamon |
| 1 | tablespoon | cornstarch |
| 3 | tablespoons | water |
| 1 | tablespoon | lemon juice |
Heat oven to 425°F.
Wash hens thoroughly and pat dry. Remove the yellow fat from the cavity opening.
Mix butter with 2 tablespoons lemon juice, basil and salt.

Spread butter under loosened skin of hen and rub in. Spread a small amount on the skin. Tuck wings under the bird and put hens breast side down on the roasting rack over a roasting pan. Roast for 15 minutes.
Move the hens to the other side (you are doing the sides) and roast for 15 minutes.

Place hens on their backs and roast for an additional 15 minutes. The hens are cooked when the juices run clear and the drumstick moves easily in its socket.

While hens are baking make the sauce.
Drain the cherries setting the cherries aside. Add the chicken broth, cloves and cinnamon. Heat stirring constantly until boiling.

Mix the water with the cornstarch and add to the sauce. Stir until thickened. Reduce the heat and add the cherries and lemon juice. Stir until well incorporated and cherries are heated through. Spoon sauce over birds.


Makes 4 servings.
Per Serving: 840 Calories; 59g Fat (63.6% calories from fat); 61g Protein; 14g Carbohydrate; 2g Dietary Fiber; 370mg Cholesterol; 521mg Sodium. Exchanges: 0 Grain (Starch); 8 1/2 Lean Meat; 0 Vegetable; 1/2 Fruit; 7 Fat.