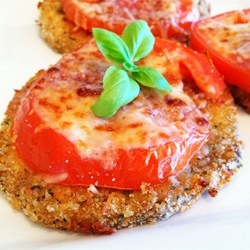 Baked Eggplant and Tomatoes
| | | |
| --- | --- | --- |
| Amount | Measure | Ingredient -- Preparation Method |
| -------- | ------------ | -------------------------------- |
| 2 | large | eggplants -- sliced 1/2-inch thick |
| 6 | large | plum tomatoes -- sliced |
| 2 | cloves | garlic -- minced |
| 1 | teaspoon | Italian seasoning |
| 2 | tablespoons | balsamic vinegar |
| 4 | tablespoons | olive oil |
| 1/2 | cup | grated fresh Parmesan cheese |
| | | kosher salt |
| | | vegetable cooking spray |
Sprinkle salt over eggplant and tomato slices. Place in colander and let drain for 30 minutes.

Heat oven to 400°F. Line two baking trays with foil. Spray with cooking spray.

Rinse excess salt over eggplant and tomato slices and dry well with paper towels.

Layer eggplant on sheet and tomatoes on other.

Mix oil, vinegar, and seasoning together. Drizzle half on eggplants and half on tomatoes. Sprinkle with cheese.

Bake tomatoes for 10 to 15 minutes and eggplant for 20 to 30 minutes.

Makes 6 servings.
Per Serving: 165 Calories; 11g Fat (58.9% calories from fat); 5g Protein; 13g Carbohydrate; 5g Dietary Fiber; 5mg Cholesterol; 135mg Sodium. Exchanges: 0 Grain (Starch); 1/2 Lean Meat; 2 1/2 Vegetable; 0 Fruit; 2 Fat.