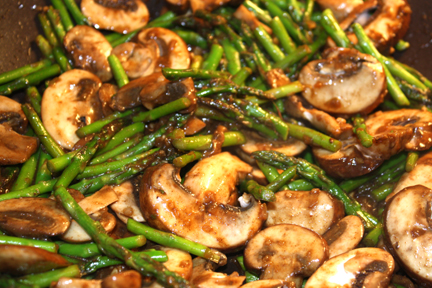 Asparagus and Mushrooms Stir-Fry
| | | |
| --- | --- | --- |
| Amount | Measure | Ingredient -- Preparation Method |
| -------- | ------------ | -------------------------------- |
| 1 | pound | asparagus spears -- sliced |
| 8 | ounces | mushroom caps -- crimini -- sliced |
| 1 | whole | shallot -- minced |
| 1 | clove | garlic -- minced |
| 1 | tablespoon | ginger root -- minced |
| 2 | tablespoons | low sodium soy sauce |
| 1 | tablespoon | sherry |
| 1 | tablespoon | five-spice powder |
| 1 | tablespoon | plum sauce |
| 1 | tablespoon | vegetable oil |
Heat wok or large frying pan to high. Add oil.

Add shallots, garlic and ginger. Stir fry 30 seconds.

Add asparagus and mushrooms and stir fry 2 minutes. Push vegetables to the side.

Add soy sauce, sherry, five-spice and plum sauce. Heat to boiling.

Coat vegetables with sauce and serve.

Makes 6 servings.
Per Serving: 52 Calories; 3g Fat (42.0% calories from fat); 2g Protein; 6g Carbohydrate; 1g Dietary Fiber; 0mg Cholesterol; 214mg Sodium. Exchanges: 1 Vegetable; 0 Fruit; 1/2 Fat.