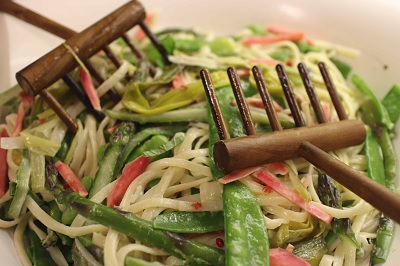 Asian Style Pasta Primavera
| | | |
| --- | --- | --- |
| Amount | Measure | Ingredient -- Preparation Method |
| -------- | ------------ | -------------------------------- |
| 1 | tablespoon | sesame seeds -- toasted |
| 1/2 | pound | shiitake mushrooms -- sliced |
| 1/2 | pound | spinach leaves -- torn |
| 1/2 | pound | bok choy -- sliced |
| 8 | ounces | linguini -- noodles |
| 2 | tablespoons | vegetable oil |
| 4 | whole | green onions -- sliced |
| 2 | cloves | garlic -- minced |
| 1 | tablespoon | ginger root -- minced |
| 1/2 | pound | snow pea pods -- fresh -- whole -- strings removed |
| 1/2 | cup | sherry or rice wine |
| 2 | tablespoons | low sodium soy sauce |
| 1 | tablespoon | rice wine vinegar |
| 1 | tablespoon | brown sugar -- packed |
| 1/4 | teaspoon | crushed red pepper flakes |
| 1 | tablespoon | water |
| 1 | teaspoon | cornstarch |
Cook noodles until al dente and drain and set aside.

Add oil to wok or large skillet. Cook garlic and ginger for 30 seconds.

Add mushrooms, bok choy, and snow peas. Cook for 2 minutes.

Add onions and spinach and cook for 1 minutes.

Mix sherry, soy sauce, rice vinegar, and brown sugar together.

Push vegetables to side and add sauce to center of wok and cook until boiling. Mix water and cornstarch together and add to sauce cooking until thickened.

Add noodles, sesame seeds, and red pepper and mix together well.

Notes: You can use broccoli instead of bok choy.

Makes 4 servings.
Per Serving: 557 Calories; 10g Fat (15.6% calories from fat); 18g Protein; 101g Carbohydrate; 12g Dietary Fiber; 0mg Cholesterol; 389mg Sodium. Exchanges: 5 1/2 Grain (Starch); 0 Lean Meat; 2 Vegetable; 1 1/2 Fat; 0 Other Carbohydrates.